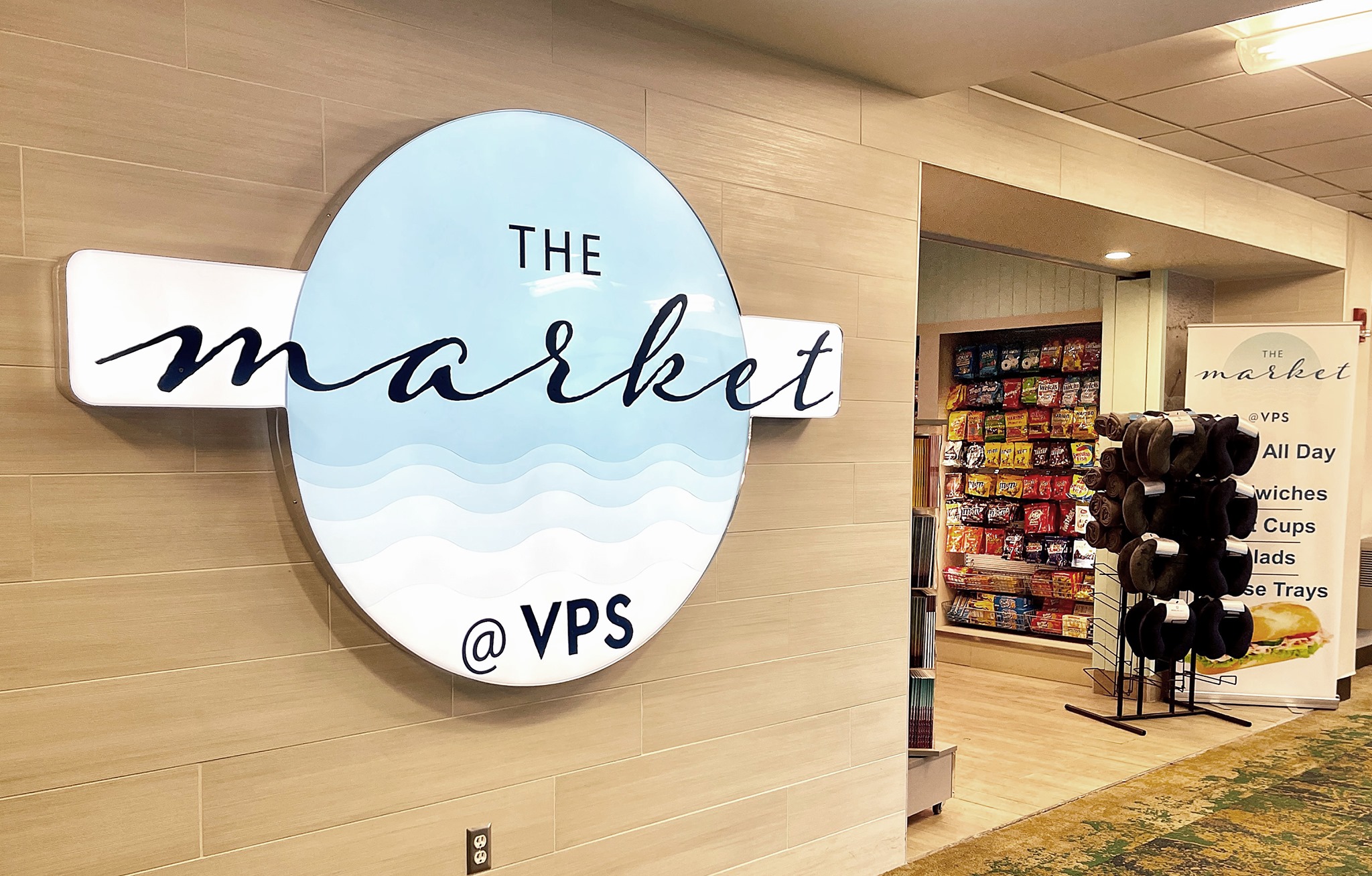 Amenities for Every Need
Enjoy many of the amenities found in larger airports with the convenience and hospitality of a smaller airport:
Emerald Coast Bar & Grill – relax and enjoy a variety of taste sensations and a full bar (known for its Bloody Mary's and Mimosas) before or after your flight. Emerald Coast serves both the secure and non-secure sides of the concourse so stop by whether you're flying out or not. For current hours and menu information call (850) 609-0577 or use the Oak2go app for online ordering.
USO Freedom Lounge serving military members and their families. Learn more.
Free WiFi/high speed internet access throughout the terminal
First National Bank & Trust has two ATMs: one located in Baggage Claim (non-secure side) and the other on the B Level Concourse (secure side). There are no Currency Exchange facilities available at VPS.
Free Shuttle from the parking lots to the terminal – operates Daily from 6 AM to 6 PM
Free Curbside Assistance located at the Ticketing entrance – operates seven days a week during Airport operating hours.
Family restrooms with baby changing stations that are spacious and clean
Mamava Lactation Pod on the B Level Concourse. To get an access code download the free Mamava App, or call (850) 651-7166.
Bark Park pet relief area located between the parking lots and the terminal 
Paging: You may have an individual paged by calling the Airport Security[CA1] Department at (850) 651-7166.
About the USO Freedom Lounge
Military members and their families can enjoy this comfortable lounge across from the ticketing area. A military ID is required. Open seven days a week from 5am to 8pm.
Comfortable Seating
Refreshments
HDTVs
Laptops
Secure WiFi Network
Phones
For more information, contact Iris Santiago, USO Center Operations Supervisor at VPS, at 850- 609-4738 or ISantiago@USO.org.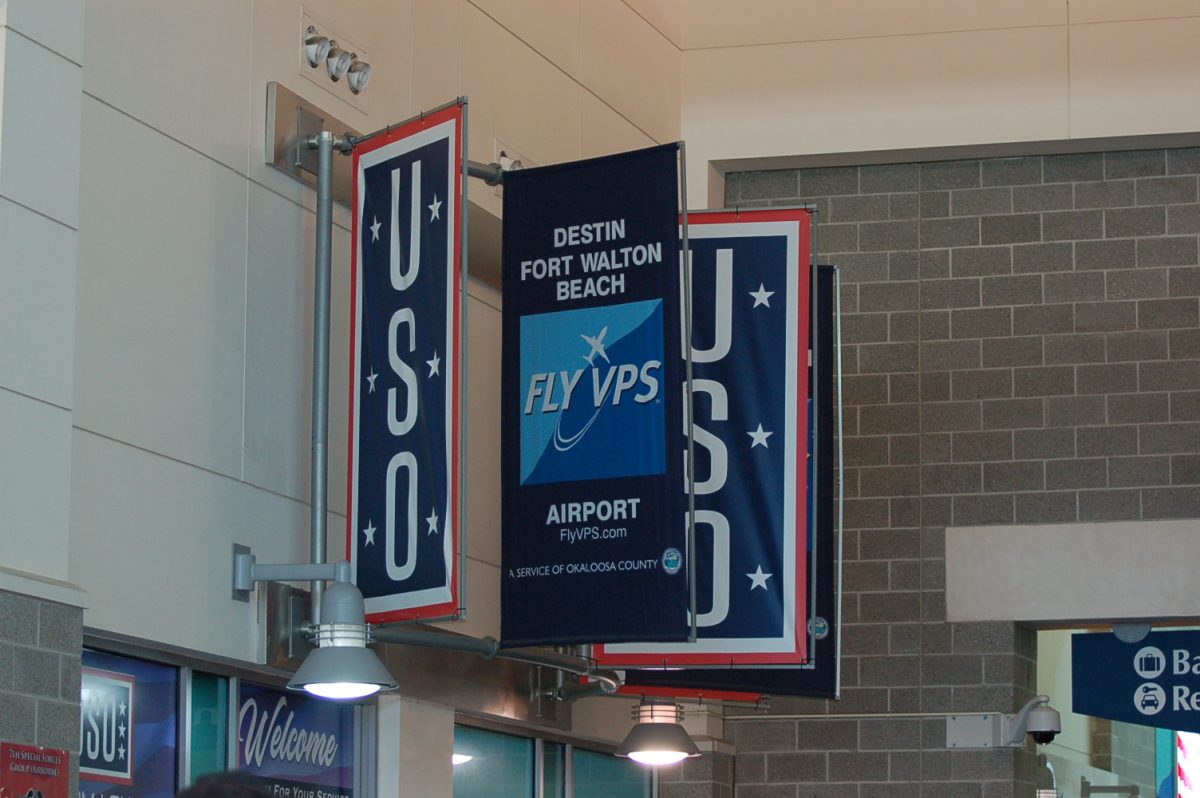 About the USO
Supporting America's troops was the first mission of the USO. In 1941, as it became clear that the nation was heading into World War II, several organizations mobilized to support the growing U.S. military: the Salvation Army, Young Men's Christian Association, Young Women's Christian Association, National Catholic Community Services, National Travelers Aid Association and the National Jewish Welfare Board. President Franklin D. Roosevelt created synergy among these agencies by forming the United Service Organizations, with the objective of providing the emotional support the troops needed.
Over time, the USO has evolved, developing new programs and services to meet the ever-changing needs of the troops and their families, while holding fast to the original mission.Today, the USO continues to lift the spirits of America's troops and their families and will continue to be there for them until everyone comes home.
Free Programs Offered at USO Northwest Florida
Bob Hope Legacy Reading Program: Service men and women can visit more than 60 USO centers in airports, community locations, military medical facilities, and overseas bases to read a book aloud while being recorded on DVD. This recording, the book that is read and a personal note are sent to the service member's family while they are deployed. Recordings are scheduled by e-mailing: usonorthwestflorida@uso.org 
Operation USO Care Package: The USO launched Operation USO Care Package to provide the comforts of home in the form of a care package. Operation USO Care Package is the only program of its kind recognized by the White House and the Department of Defense due to the program's strict adherence to security requirements. Learn more.
In addition to the above programs our lounges offer free internet, fax, and phone service to all service members and their families.
USO Northwest Florida Needs Your Help
Our service men and women and their families make remarkable personal sacrifices for our country. You can help USO Northwest Florida lift their spirits and honor their service by making a tax-deductible donation here. Your donation will support the Freedom Lounge here at VPS and a variety of other programs, from deployment care packages and homecoming kits to support for wounded warriors. Thank you for your generosity and support.