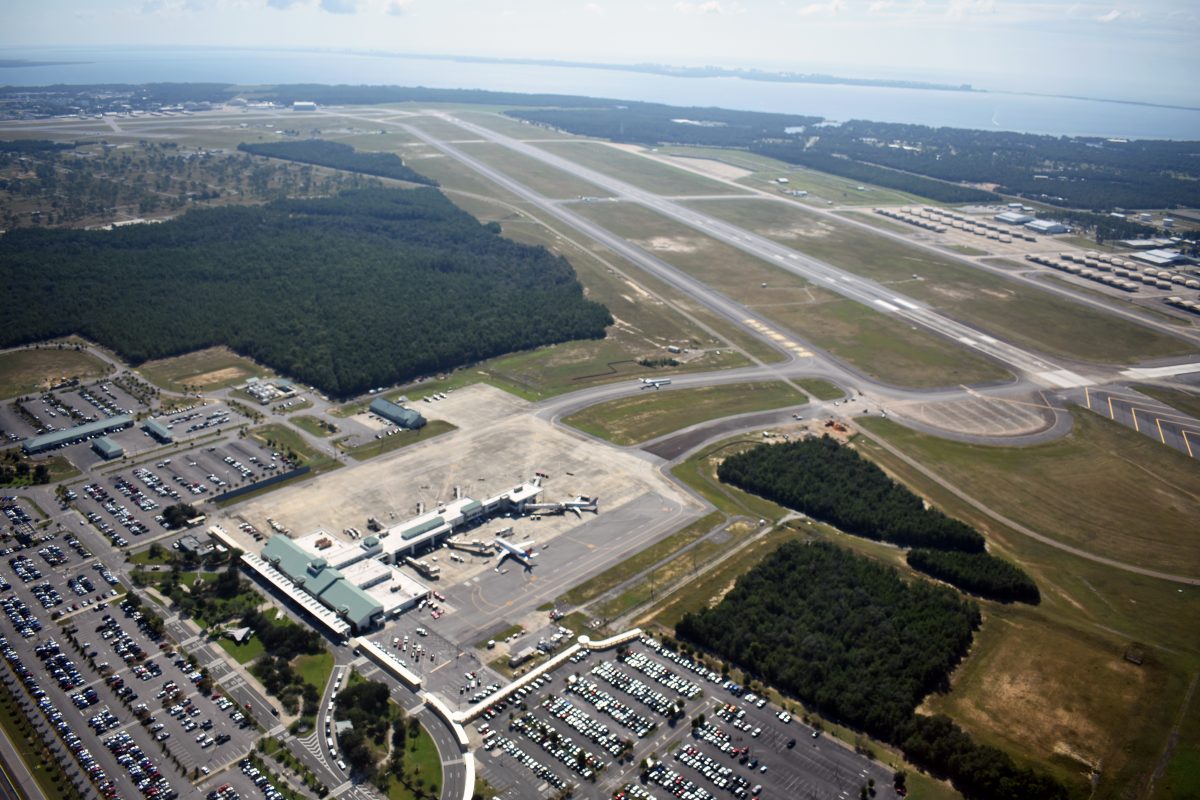 Milestones to Becoming the Emerald Coast Gateway
1935 – Eglin Air Force Base was established as the U.S. Army Air Corps Valparaiso Bombing and Gunnery Base, then renamed in 1937 to honor the late Lt. Col. Frederick Irving Eglin, a military aviator who helped train Army flyers during World War I.
1942 – Eglin became a major training location for a raid on the Japanese mainland led by Lieutenant Colonel James Doolittle.
1957 – The Northwest Florida Air Terminal opened on Eglin Air Force Base. Southern Airways was the lone air carrier flying two flights per day. Passengers would enter on the east side of the base in Valparaiso, FL, thus the airport code of VPS was born.
1968 – Southern Airways began flying four DC-9 aircraft daily out of VPS and Air New Orleans began flying two daily operations with service to New Orleans.
1975 – The Okaloosa County Air Terminal located on State Road 85 opened its doors. The 32,000-square-foot facility was constructed at a cost of $1.7 million, financed through federal, state, and local monies. First year passengers totaled 185,000 with Southern Airways as the sole airline with 12 departing flights daily.
2003 – The "Massive Ordinance Air Blast" or "Mother of All Bombs" was tested at Eglin AFB, creating a mushroom cloud that could be seen 20 miles away.
2004 – The Okaloosa Regional Airport opened its doors following a major expansion program including additional public parking and aircraft parking apron, a second parallel taxiway, landscaping and a new 110,000 square foot passenger terminal. First year passengers totaled more than 800,000.
2005 – American Eagle began service with five flights daily to Dallas/Fort Worth, TX.
2009 – US Airways began service with three flights daily to Charlotte, NC. A $14 million rental car service facility opened on 22 acres east of the main terminal. Military and local officials expressed support for the arrival of the 7th Special Forces Group relocating to Okaloosa County from Fort Bragg, NC, by signing the Okaloosa County Military Community Covenant.
2010 – The UH-1 "Huey" Helicopter was dedicated in honor of the late Michael J. Novosel Sr., who earned a Congressional Medal of Honor for his heroics. The USO Freedom Lounge opened its doors.
2012 – US Airways launched inaugural, nonstop flights to Reagan National Airport (DCA) in Washington DC. The Okaloosa County Airports Police Office was established to provide law enforcement for the three Okaloosa County Airports. The USS Okaloosa ship's bell was unveiled at VPS sixty-seven years after she arrived off the beaches of Okinawa during the bloodiest battle of the Pacific.
2014 – The free cell phone waiting/parking area opened, enabling easy pickup of arriving passengers and the Bark Park opened to serve four-legged passengers, providing a convenient pet relief area.
2015 – Northwest Florida Regional Airport becomes Destin-Fort Walton Beach Airport
2021 – Southwest Airlines began daily service to Nashville, Baltimore/Washington, Dallas, Chicago, Austin and Milwaukee.